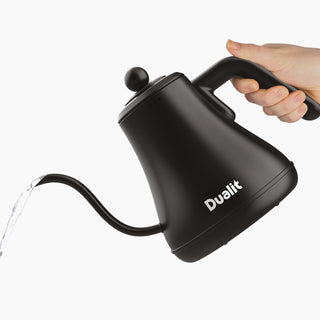 Refurbished Pour Over Kettles
£71.99
Colour

Black
Code 72960RF
Order by 12pm weekdays for same day shipping
PLEASE NOTE: THESE POUR OVER KETTLES HAVE BEEN PROFESSIONALLY REFURBISHED BY DUALIT.
0.8L Capacity

Temperature Control

Digital Display

Space Saving Design
With orders placed by 2pm Monday to Thursday or 12pm on Fridays for standard stocked items, the order will be shipped (leave our warehouse) on the same day. Orders placed after these times will be shipped on the next working day. If an order includes a 'made to order' item, the entire order will be shipped when complete; this may take up to 21 working days. Dualit's working days are Monday to Friday.
Discover the key features of the Pour Over Kettle. With a long gooseneck spout and variable temperature, the Pour Over Kettle is ideal for tea and coffee drinkers.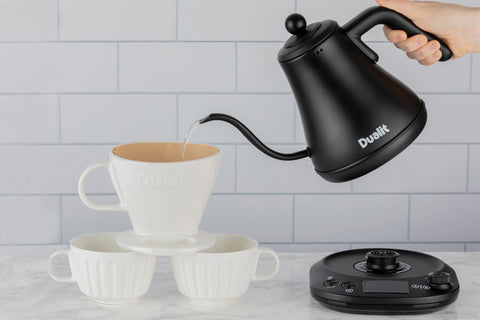 Gooseneck Spout
A thin, gooseneck spout controls the flow of water for a slow and accurate pour over ground coffee. This ensures maximum flavour and aroma extraction every time.
Temperature Control
Dualit's Pour Over Kettle offers temperature control in both Celsius and Fahrenheit. The temperature can be changed by just one degree at a time, up to 100°C/212°F, for complete control.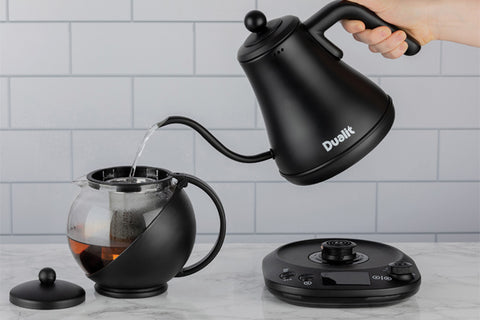 Versatility
Not only is the Pour Over Kettle ideal for drip through coffees, it can also be used for brewing tea. The temperature needed to brew tea will vary as some leaves are more delicate than others.